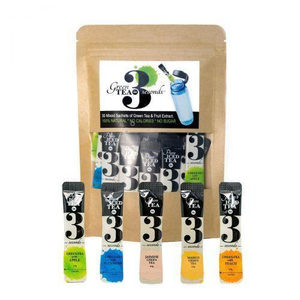 This Premium Organic Green Tea 30 Day Bundle makes keeping track of your fluid intake nice and easy! With enough supply for 3 sachets a day, you can ensure you're drinking the right amount and keeping healthy!
Premium Organic Green Tea Bundle - 30 Days  (90 Sachets)
One perfect way to stay hydrated
Two ingredients; 90% Green Tea + 10% Apple, Blueberry, Jasmine, Mango, or Peach
Three seconds; to dissolve in water

The 90-Pack Special Includes:
- Green Tea & Apple 18x sachets
- Green Tea & Blueberry 18x sachets
- Green Tea & Peach 18x sachets
- Green Tea & Jasmine 18x sachets
- Green Tea & Mango 18x sachets
Each Serve Contains:
- 265mg Green Tea Antioxidants
- Equivalent to 5g Green Tea, and 5g Fruit (Apple, Blueberry, Mango, Jasmine or Peach)
- 100% Natural Ingredients
- 0g Sugar or Sweeteners
- No Calories
Enjoy Hot, Cool, or Iced! Each sachet makes up to 500mL of Pure Green Tea.
Enhance your Water. Boost your Health.

Go on a subscription and save 10% on your first 2 orders, and 15% thereafter. That way, you'll never run short of Instant Tea!

Loving all the flavours!!!
I love drinking green tea now, specially because the flavours are delicious! My favourite is the peach flavour tea! I also really enjoy the digestive tea sample you send. Will be ordering some next time!
choosing a selection results in a full page refresh